No, of course I did not appear in Valentino Magazine! Last night, my good friend Rey texted me this:
bili ka ng
valentino mag,
vol.1 #7 issue
(cover: justin de
leon), article dun
abt mga gay
blogspots, 1 ka sa
na-feature,ratin
g mo 4/5. saw it
from a friend's
copy
This morning, I went out and bought the said copy. And voila!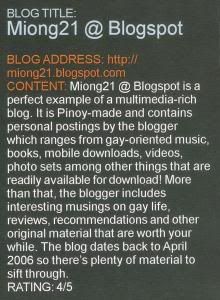 Wow! This is a first for this blog!
My warmest thanks to Mr. Iñigo Miranda for including my blogsite in your article! I wish I could scan your model Jaspher Cabrera, but I can't. I only scanned this in a public internet shop. I even have to cover the model's pic with a white paper.
And also many thanks to my friend Rey for informing me about this!