Monday, October 09, 2006
Posted by Dave Montero
on 10/09/2006 10:46:00 PM
0 comments

Fashion Event Cosmo Bachelor Bash 2006
courtesy of the IAFT
F People Cosmopolitan Bachelor Bash 2006
courtesy of the IAFT
Ain't No Other Man
Posted by Dave Montero
on 10/09/2006 03:58:00 PM
0 comments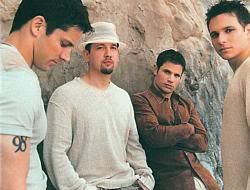 This is one of the last original recordings made by my fave American boyband, 98º. Pity, this song possesses their greatest vocals ever. (My fave all-male group is Boyz II Men, but they're British, so...)
Yeah, they didn't have much success like the Backstreet Boys or Boyzone, or even their idols Boyz II Men. But I still love 'em. LOLz
I think they dedicated this song to their fans.
Download
MP3
[ files with no download hits for 10 days will be automatically deleted ]
File info:
/ Filename: 98º - Never Let Go.mp3
/ Size: 4.33MB
/ Bit Rate: 128 kbps
/ Length: 4:43
Posted by Dave Montero
on 10/09/2006 03:01:00 PM
0 comments

I am deeply saddened by this. I've always dreamed of seeing him in person someday. Really, really admire his dedication to his work. He could be the next top anchorman for GMA-7, all ruined with this tragic accident.
I patiently wait on every GMA Flash Report, 24 Oras and Saksi for him to appear.
I am sure he has a lot of silent admirers out there. To think he'll be having his 26th birthday in 2 months time.
I do not care what people might say to this post, but with his untimely death, I really felt a sudden loss.
I do not personally know him, but I wish I were.
If there's someone who's reading this is close to Dan's family and relatives please extend my sincerest condolences.
You will be missed, Dan.
Dan Campilan's Profile on iGMA.tv
INQ7.net article (10//2006)
BAYAN (Bagong Alyansang Makabayan) Tribute Page